McElwain: Offensive line 'the strength of our football team'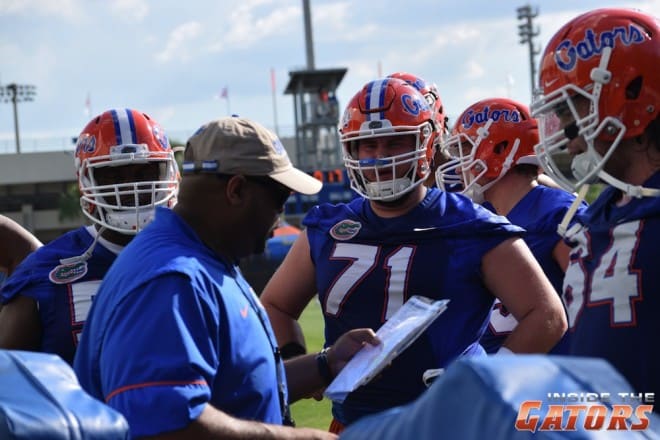 After often shaky, inconsistent play over the past two seasons, the outlook for Florida's offensive line in year three of the Jim McElwain era has been discussed plenty this offseason.
It was a topic that came up again Tuesday during Florida's turn at SEC Media Days in Hoover, Alabama. Multiple times throughout spring practices, McElwain shared that he was encouraged by the progress of the O-line and felt the unit could be a strength for the Gators this season.
He took it a step further Tuesday, after observing the progress of the offensive line during offseason workouts over the past few months.
"What I'm excited about is I truly believe the strength of our football team is our offensive line," McElwain said. "We're at the point right now where, 'You know what? It's time to go.' We've got some parts, and that gets you excited."
McElwain has seen the group come a long way since his first offseason in Gainesville, when the Gators were incredibly shorthanded along the O-line due to a myriad of factors.
"Through just bum luck and some things that go on, we inherited four scholarship offensive linemen … in the SEC," McElwain said. "And yet, I love those guys. They played their tails off. But at the same time, let's go ahead and make sure that what we're trying to do is win the game. Understand that everything that you do in life is trying to win the game. How do you do that? You do that with your strengths, and not sometimes maybe putting your weaknesses at a place where they could screw it up, right?"
In 2015, the group led the nation in sacks allowed with 45. Last season that number dropped to 28 sacks (tied for 71st nationally), but the run game didn't make much improvement. A year after averaging 126.93 rushing yards per contest (113th in the nation), Florida ranked in the same spot nationally with 128.23 per game.
However, the majority of last year's rotation returns to the mix, with the only major losses being left tackle David Sharpe and center Cameron Dillard.
One of the returning contributors who McElwain is especially excited about is redshirt sophomore T.J. McCoy, who stepped in for an injured Dillard late in 2016 and added a spark at the center position.
"What he did to come in as a third-stringer. Cam went down, very next play we go down and here he trots in," McElwain said. "I'll tell you what, he made a difference from that point on. We became better running the football when he was in there."
McCoy is one of four returning starters from the unit, but the anchor of the offensive line in 2016 will be junior Martez Ivey, a former five-star recruit who is making the move from left guard to left tackle this season.
"You know, Tez is a natural left tackle. That's what he was coming out (of high school)," McElwain said. "It speaks volumes to his unselfishness that he went in there and played at guard, knowing that we needed, you know, that to happen. That first year we got there, just because through some bum luck and some things that had happened, you know, we only had four scholarship offensive linemen, so piecing a group together, which we were able to do. And in Tez's case, I think he'll really flourish now. He has that ability to move on the outside."
Ivey, who was one of three Gators to make the trip to Hoover along with McElwain, has enjoyed the move to the outside.
"The transition has been really smooth from playing guard," explained Ivey. "It is a natural position for me - that is what I played in high school. I got used to guard, when I first got there I had to sit down and watch myself a little bit. It was smooth but at times it was a little rough because I was so used to playing guard for two years. But I believe now that it is flowing pretty well."
Overall, Florida returns a number of key contributors from last year's rotation, including Ivey, McCoy, starting right tackle Jawaan Taylor, right guard Fred Johnson and offensive guard/center Tyler Jordan. Redshirt freshman offensive guard/center Brett Heggie also figures to be a key member of the rotation this season.
Others, including offensive tackles Kadeem Telfort, Stone Forsythe and Kavaris Harkless, and offensive guards Antonio Riles, T.J. Moore and Nick Buchanan, will battle to round out the rotation in 2017. The addition of new offensive line coach Brad Davis has been one that has helped light a fire under the group.
"One thing I do know, you're either getting better or getting worse. You never stay the same. And with these guys, it's a different team," McElwain said. "Our strengths are going to be in some different areas that maybe hasn't been a strength since we've been here, and yet that's not to downplay, you know, like we've got some good young players that are going to have to grow up awfully quickly, so -- but with that, you know what, that's a pretty darn good team, and I'm excited to see what they do this fall."
------
Thank you for reading this Inside the Gators article. To discuss it, please visit the Alligator Alley Forum.